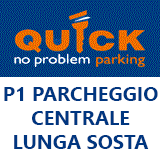 Languages spoken by car park staff

Car Park P1 is an officially recognised car park of Genoa's "Cristoforo Colombo" Airport
. Quick P1 Central Car Park is the perfect place to leave your vehicle, so you can take your flight with no worries.
Access to the car park is quick and easy. Simply take a ticket when you arrive and, on your return, please bring the ticket and the booking voucher to the InfoPoint, which is located in the "Arrivals" hall of the airport. PLEASE NOTE: If you stay longer than the time stated on your booking voucher, you will be required to pay an excess charge, based on the car park's local on site tariffs . The discounted tariff is valid only for advance reservations and payments online.

4.2
Were the car park staff accommodating and friendly?
?

5.0
Was the car park or drop-off location easy to reach?
?

3.9
Was the transfer service well-timed and generally pleasant?
?

5.0
Was your vehicle in the same condition as you had left it?
?

4.4
Was it straightforward dropping off your vehicle and retrieving it upon your return?
?
coulet
Friday, May 11, 2018
Piergiuseppe
Tuesday, May 8, 2018
Grazie per la cortesia via web e alla cassa dell'aeroporto di Genova.
Read More
Laura
Thursday, May 3, 2018
ottimo servizio
Read More
giovanni
Tuesday, April 24, 2018
il voucher dovrebbe dare al possibilità di uscire digitando un codice alla sbarra e comunque senza dover andare alla cassa
Read More
Piergiuseppe
Tuesday, March 27, 2018
Attendo la fattura via mail. In una era stratecnologica, non comprendo come si debba tutte le Sante volte dover compilare il formulario con i dati, quando sei già cliente e dovresti essere già inserito automaticamente. Grazie.
Read More
Anna
Thursday, March 22, 2018
È il mio primo utilizzo ,tutto semplice e perfetto. ,
Read More
STEFANO
Sunday, December 10, 2017
Alessandro
Thursday, September 7, 2017
LUCIANO
Wednesday, July 5, 2017
ROMANO
Monday, June 26, 2017
QUICK P1 LONG STAY GENOA AIRPORT