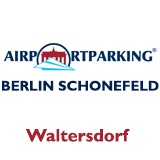 Disabled Parking
Free Transfers
Individual Transfers
Perimeter Fence
Well Lit
Child Seats
Flat Battery Jump Start
Insured Car Park
No Pre-Payment
Toilet
24 Hour
Languages spoken by car park staff

Airportparking Berlin Schonefeld Waltersdorf can offer you secure, well-lit open air parking near Berlin Schonefeld airport. It is open 24/7 to ensure you catch your flight, whatever time it's at!
Airportparking Berlin Schonefeld Waltersdorf is a fenced, well-lit car park. Disabled parking spaces are available. The car park has on-site toilets, available free of charge. You and your car will be looked after and you can enjoy the shuttle ride in comfortable, air-conditioned buses which take as little as 5 minutes to get to and from the airport. Child seats can be provided in the shuttle, also free of charge.
Please note: The transfer to and from the airport is included for up to four passengers. For more than four passengers, there will be a charge of €19, which will be added to your total in the booking form.
Services offered:
Secure parking on a locked, fenced and well-lit car park - employees perform regular check-ups on the cars
24h individual tranfers
Shuttle buses with air-conditioning
Disabled parking spaces
Use of child seats free of charge
Use of toilets at the car park free of charge
Free flat battery jump-start

4.6
Were the car park staff accommodating and friendly?
?

4.7
Was the car park or drop-off location easy to reach?
?

4.6
Was the transfer service well-timed and generally pleasant?
?

4.8
Was your vehicle in the same condition as you had left it?
?

4.6
Was it straightforward dropping off your vehicle and retrieving it upon your return?
?
Denny
Tuesday, May 15, 2018
Marcel
Tuesday, May 15, 2018
Bernd
Monday, May 14, 2018
Petr
Saturday, May 12, 2018
Doreen
Friday, May 11, 2018
Beniamin
Monday, May 7, 2018
Starszy pan z obsługi nie nastawiony pozytywnie do klienta. Podczas powrotu czas oczekiwania 20 minut, podjeżdża bus, ale nie chce nas zabrać, mówi ze następny i odjeżdża pusty. Kolejny podjeżdża zabiera nas po naszej prośbie, okazuje się ze jedzie na inny parking, a grzecznościowo zabiera nas i podwozi na nasz. Po drodze kierowca dzwoni do "starszego pana" i widać ze coś nie gra. Podwozi nas na nasz parking, i mówi ze "starszy pan jest ... taki a owaki". Na parkingu spotykamy starszego pana paktującego do busa " panią blondynkę". Wynika zbitego ze nie wziął nas z lotniska bo czekała na parkingu pani blondynka i być moze minuta na zapakowanie nas do busa sprawiłaby ze pani blondynka pojechała z kimś innym. Korzystałem poraz 4 z tego parkingu, ale pierwszy raz była taka niemiła obsługa, czytaj "starszy pan". Za 5
Read More
maciej
Monday, May 7, 2018
Szybki transfer busem bez względu na porę przyjazdu
Read More
Mariusz
Monday, May 7, 2018
Brak transferu powtórnego po przylocie, czas oczekiwania 0k 1h - masakra
Read More
Usługi godne polecenia. Jedna rzecz, która mnie zaskoczyła, że jest to parking niestrzeżony. Być może przy rezerwacji nie doczytałem. Poza tym ok.
Read More
Roman
Saturday, May 5, 2018
Szybko i sprawnie. Szczerze polecam.
Read More
Airportparking Berlin Schonefeld Waltersdorf