Our Mission Statement
ParkCloud is dedicated to connecting the world's drivers with parking spaces.
ParkCloud allows consumers to choose parking as part of their journey, working on the one hand with car park operators to provide the right spaces in the right places, and on the other, travel industry market leaders to ensure that parking is visible at the right time. Pre-booking parking is the key element, letting customers plan in advance, and depart with the peace of mind that they won't struggle to find a place to park, nor have difficulty in gaining access.
Parking operators and owners benefit from exposure to a large and diverse audience, whilst the wider travel sector gains access to a ready-made parking network to help complete the itineraries of its clientele.
A Word From The Top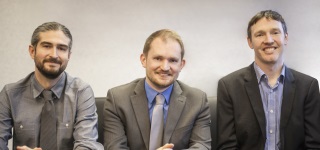 Left to right: Mark Pointon, Mark Pegler, Joe Kennedy
"It's been over 7 years since we began this business, and in that time our success and growth has been unprecedented. We've gone from 3 people to over 40; from 1 country to more than 30; and from 2 languages to over 20.
Whether you're new to the parking industry or well established, here at ParkCloud we want to help you to take the next step. I hope you enjoy exploring how we can do that on our website, and if you would like to find out more, please don't hesitate to get in touch.
We look forward to speaking or working with you in the future."
Mark Pegler, Managing Director
An Award Winning Company

In 2014, ParkCloud was awarded the Queen's Award for Enterprise in the category of International Trade. Queen's Awards winners are selected by the Queen herself based on recommendations from the Prime Minister and board of judges. Considered to be the highest accolade available to UK businesses, the award recognises ParkCloud's extraordinary growth and success in the past few years.