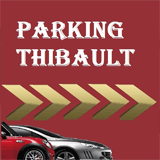 Secure
Gated Entry
24 Hour
Parking Thibault offers secure parking close to Tours airport at an affordable price. This recently resurfaced car park is surrounded by hedge and is protected by an entry gate which means you can leave your car knowing that it is secure and in safe hands. The car park is located only one minute on foot away from the airport on private land. The owner has installed security similar to that found in your own home. So there is no reason to fear scratches or vandalism. The entry gate prevents access by strangers and you can rest assured that no intruders will have access to your vehicle. The procedure is very simple - when you arrive at the car park, staff will welcome you and show you where to park your vehicle. You will then walk to the airport which is only 200 metres away.
This car park aims to fill the gap left by the official car park at Tour airport which, due to the fact that it is free, has no form of security whatsoever. Our secure listed car park allows you to retrieve your vehicle in one piece.

5.0
Were the car park staff accommodating and friendly?
?

5.0
Was the car park or drop-off location easy to reach?
?

5.0
Was the transfer service well-timed and generally pleasant?
?

5.0
Was your vehicle in the same condition as you had left it?
?

5.0
Was it straightforward dropping off your vehicle and retrieving it upon your return?
?
Eric
Sunday, April 29, 2018
Corinne
Tuesday, February 20, 2018
Joelle
Saturday, December 30, 2017
tout a été parfait.....nous reprendrons ce parking a notre prochain voyage
Read More
Daniel
Thursday, December 28, 2017
Bernardino
Wednesday, November 15, 2017
Vraiment idéal tranquilité voiture en sécurité
Read More
BIGOGNE
Sunday, October 29, 2017
Grosse déception En réservant je pensais trouver un parking professionnel et fermé et surtout indiqué. En fait je pensais déposer mon véhicule au parking de l'aéroport ... ce qui au final n'était pas le cas. Je n'ai pas trouvé l'endroit où je devais garer ma voiture... je l'ai laissé sur le parking de l'aéroport qui était gratuit !!!! Je me suis donc fais volé de 24€ . Prestation que je n'ai pas utilisé car je n'ai pas trouvé l'endroit. Je souhaite bien évidemment le remboursement !!! Merci de faire le nécessaire
Read More
Annie
Sunday, September 10, 2017
CHANTAL
Tuesday, August 8, 2017
Anonymous
Saturday, May 20, 2017
Anonymous
Tuesday, May 16, 2017
Parking Thibault Tours Airport