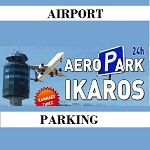 Child Seats
Luggage Minding
CCTV
Wifi
Free Transfers
Tyre Checking Service
24 Hour
Ikaros-Aeropark provides secure parking facilities 24 hours a day, 7 days a week. It benefits from continuous CCTV surveillance and the presence of staff on site at all times. A free of charge luxury shuttle bus ensures a reliable and quick transfer service to and from the airport, and is suitable for disabled passengers and for those travelling with children. There is a 4 metre ramp available for easier access.
Located only 3 minutes from Macedonia Airport, the car park offers free transfers to/from the airport in a luxury shuttle bus. The car park is open 24/7!
Reservations:
Making a reservation is easy and there are no booking fees!
Select the dates and times for dropping off and collecting your car
Click on "Check Availability"
To reserve a space, click on "Book" and fill in the booking form.
As soon as your reservation is completed, notification will be sent to your E-mail address. The confirmation contains a booking voucher, together with the address, GPS coordinates and the contact details of the car park.
IMPORTANT
Please type in your country code in the booking form when you provide us with your mobile number (in the field "Mobile")
Michael
Sunday, January 12, 2014
excellent service and very quick collection from the airport. would definitely use again.
Read More
Iliya
Friday, November 29, 2013
Отношението към клиентите е повече от добро а минутите за трансфер до и от аерогарата могат да се изброят на пръстите на едната ръка. При следващо пътуване ще ползвам същият паркинг без да се колебая !
Read More
Ιγνατιος
Wednesday, November 27, 2013
Very good service at a very good price, reliable
Read More
Emre
Thursday, November 21, 2013
Tübingen
ΑΛΕΞΙΟΣ
Friday, November 1, 2013
1. Services of very high quality provided. 2. Very friendly staff. Good professionals. Very fast. 3. Good value for money.
Read More
Andrijana
Wednesday, October 16, 2013
Good service, and we are very happy that there is safe place to leave the car. That was a big problem not so far time before. Thanks
Read More
Николай
Thursday, October 10, 2013
Доволен съм от услугата. Бързо и любезно бяхме превозени до летището и обратно. Малкият жест от тяхна страна - две бутилки с минерална вода за из път носи приятно усещане.
Read More
Georgios
Thursday, October 10, 2013
best service, everything correct!
Read More
ΧΡΥΣΑ
Tuesday, October 8, 2013
Excellent service all the way!!! Thank you. Its a pleasure working with you.
Read More
ΧΡΥΣΑ
Friday, September 20, 2013
Excellent service. Thank you!!!!
Read More
Ikaros aeropark Thessaloniki