Cheaper than the official airport
Reserve your guaranteed parking space in less than 2 minutes
No online deposit required
Return transfers provided
ParkCloud offers you safe Salzburg airport parking with private car parks close to the airport that give you the additional bonus of enabling you to to reserve and guarantee a secure parking space from the comfort of your own home and in less than 2 minutes! The parking is secure and provides transfers to and from the airport- see operator page for details. Book on ParkCloud to save yourself the stress of finding a parking space, and you can enjoy your holiday knowing that your car is being looked after.
How do I book Salzburg airport parking?
Select the dates and times when you wish to drop and pick up your vehicle
Obtain a free quote by checking availability
Complete the booking form online or call our team during office hours.
You will receive a booking voucher via email containing all the relevant information such as directions, the car park's address and direct phone number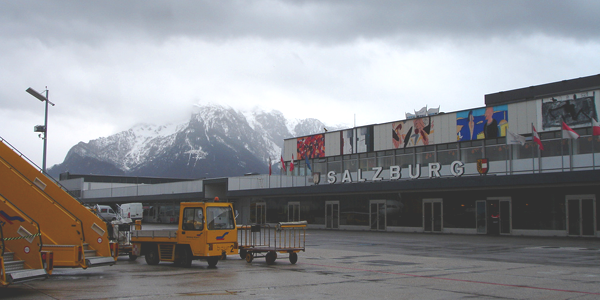 Salzburg Airport W.A.Mozart, named after the famous composer, is located to the west of Salzburg city centre and just 2 km from the German border. Salzburg Airport is the second largest airport in Austria and handles around 1.7m passengers per year. Airlines such as AirBerlin, Flybe, British Airways, Lufthansa, Transavia, Austrian Airlines and Niki fly regularly to destinations all over Europe. In summer, charter airlines also offer numerous flights to various destinations in Spain, Turkey and North Africa.
From 11pm at night until 6am in the morning, a seven-hour night flight ban applies at Salzburg Airport. For machines with noisy engines the night time ban already applies from 8pm and until 7am. An exception is made for delayed airplanes as well as air ambulance flights, which may take place around the clock.