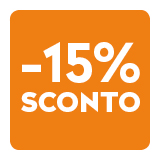 Languages spoken by car park staff

Official airport's car park!
Choose the security to book for the official car park: more than 2100 open air spaces! The car park is divided in 6 areas and the customer service is available 24/7/365!
The car park is just some minutes away from the terminal and offers a free shuttle bus! NOTE: The shuttle bus leaves every 8 minutes. Every easy Parking booking includes an exclusive 10% discount in participating airport bars and restaurants. From 01:00am to 05:00am the shuttle bus service will be available only calling on the intercom that is available in each stop.
The 10% discount offer will not be available at Antica Focacceria San Francesco (area imbarchi D) e Farinella, Ajisen Ramen e Beercode (area imbarchi E)

4.0
Were the car park staff accommodating and friendly?
?

4.3
Was the car park or drop-off location easy to reach?
?

4.5
Was the transfer service well-timed and generally pleasant?
?

4.7
Was your vehicle in the same condition as you had left it?
?

4.2
Was it straightforward dropping off your vehicle and retrieving it upon your return?
?
maurizio
Thursday, June 21, 2018
Matteo
Tuesday, June 19, 2018
gabriela
Tuesday, June 19, 2018
VALERIO
Monday, June 18, 2018
Giovanni
Sunday, June 17, 2018
adriano
Sunday, June 17, 2018
carlo
Tuesday, June 12, 2018
Roberto
Tuesday, June 12, 2018
Luana
Thursday, June 7, 2018
carol
Sunday, June 3, 2018
Aeroporti di Roma - Long Stay - Open Air - Shuttle bus