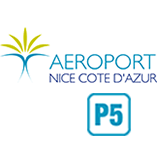 CCTV
Multi-Storey
Undercover
Barrier Entry
Disabled Parking
Tarmaced
Languages spoken by car park staff

The car park is ideal for parking from Terminal 2. In direct contact with Terminal 2, the P5 has a dynamic and bright indication of available seats. Among the 2178 seats in total, the P5 includes 3 covered levels and an outdoor level. In the parking P5, you have luggage trolleys, disabled places. Once you park at the P5, you can walk to Terminal 2 in less than 2 minutes on foot. The pin code to access the car park and all needed information to enter and exit the car park are available in the booking voucher that you will receive by email once you have made your booking.

3.0
Were the car park staff accommodating and friendly?
?

3.0
Was the car park or drop-off location easy to reach?
?

3.0
Was the transfer service well-timed and generally pleasant?
?

3.0
Was your vehicle in the same condition as you had left it?
?

3.0
Was it straightforward dropping off your vehicle and retrieving it upon your return?
?
Lorenza
Tuesday, April 24, 2018
Nicolò
Tuesday, April 3, 2018
Buongiorno, sono arrivato all'entrata del parcheggio del P5 (prenotato in precedenza) e mi hanno dato una tessera. All'uscita del parcheggio ho dovuto pagare l'intera permanenza dell'auto nel parcheggio senza aver potuto usufruire della prenotazione, pagando due volte il parcheggio
Read More
Jean
Monday, January 22, 2018
Nice Côte d'Azur Official Airport Parking Terminal 2 - P5 - Weekend