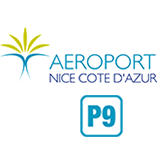 Barrier Entry
Electric Fence
Tarmaced
Languages spoken by car park staff

The P9 car park is ideal for parking at the best rate from Terminal 1 and Terminal 2. The P9 car park has a free shuttle bus stop nearby, with a frequency of 5 to 10 minutes. 300 places are available outside. In the parking lot P9, you have luggage trolleys, disabled places and pedestrian signs leading you to the exit. You reach Terminal 2 in less than 9 minutes and at Terminal 1 in less than 14 minutes by the shuttle. The pin code to access the car park and all needed information to enter and exit the car park are available in the booking voucher that you will receive by email once you have made your booking.

3.8
Were the car park staff accommodating and friendly?
?

4.0
Was the car park or drop-off location easy to reach?
?

4.1
Was the transfer service well-timed and generally pleasant?
?

4.8
Was your vehicle in the same condition as you had left it?
?

4.8
Was it straightforward dropping off your vehicle and retrieving it upon your return?
?
thierry
Sunday, May 6, 2018
Bonjour , notre reservation etait jusque 19H l'avion est arrivée à 22h30 , la facturation du parking pour l'ecart est de 15€ => je trouve cela demesuré pour 2h30 de decalage et j'apprecierais beaucoup un remboursement de l'ordre de 10€ . car j'ai vraiment le sentiment de m'etre fait avoir sur ce point. tlacour@biopreserv.fr
Read More
Edoardo
Wednesday, May 2, 2018
Solange
Monday, April 23, 2018
carole
Saturday, April 14, 2018
Bogdan
Friday, April 13, 2018
Due les travaux à l'aéroport il était difficile d'arriver au terminal à l'entrée.
Read More
Giulia
Wednesday, April 4, 2018
Bertrand
Tuesday, April 3, 2018
Antonietta
Thursday, March 29, 2018
Comodo ed economico
Read More
Frederic
Friday, March 23, 2018
Rien a redire bon service.
Read More
Roberta
Thursday, March 15, 2018
Nice Côte d'Azur Official Airport Parking - P9 - Low cost