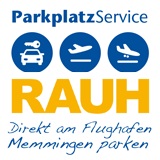 Keep your Car Keys
Toilet
Well Lit
24 Hour
Open Air
Disabled Parking
Flat Battery Jump Start
CCTV
No Pre-Payment
Languages spoken by car park staff

No Pre-payment! At the CCTV-protected and well-lit open air car park of Parkservice Rauh you and your car are very well looked after and you are able to park or pick up your car anytime.
The car park of Parkservice Rauh Memmingen is situated only about 700m from Memmingen airport. You can easily walk the short distance within a few minutes. We advise you to drop off any luggage and other passengers directly at the terminal, so that it is only the driver who will need to walk back. You can park a maximum of 15 minutes for free, right in front of the terminal entrance.
Our services:
Attentive service from staff at the car park Monday to Saturday between 7am and 6pm/li>
Friendly employees who are happy to help with any questions
carlos
Friday, December 16, 2016
Werner
Monday, January 25, 2016
Roland
Thursday, January 14, 2016
reibungsloser Ablauf, sehr nah am Airport gelegen - jederzeit wieder
Read More
Andreas
Sunday, December 13, 2015
Alles Top! Sehr nahe und günstig!
Read More
Günter
Saturday, September 12, 2015
Super Service ,gerne wieder !!!
Read More
Egon
Sunday, August 2, 2015
Hat alles Tip Top geklappt!  Gerne wieder !
Read More
Daniela
Monday, July 6, 2015
Werden Ihr Angebot sicher wieder gerne in Anspruch nehmen!!  Günstig und sehr unkompliziert!
Read More
Markus
Monday, May 25, 2015
Rasch, gut, wieder.
Read More
Sabine
Monday, April 13, 2015
Ja, ich war zufrieden. Alles hat wunderbar geklappt.
Read More
Gabriele
Tuesday, April 7, 2015
Jederzeit gerne wieder!
Read More
Parkservice Rauh Memmingen