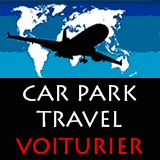 Meet and Greet
Barrier Entry
Well Lit
Night Patrol
24 Hour
Secure
Toilet
Indoor Storage
Waiting Room
CCTV
Languages spoken by car park staff

CAR PARK TRAVEL offers you
a premium meet and greet service with an indoor space included, available 24/7!
How to use the service:
Meet & Greet service Call a member of staff 5 minutes before your arrival at the airport and drive directly to the departure terminal. A driver with the car park logo will be waiting for you to drive your car to the car park. On your return, please call car park staff after your flight has landed and they will drive your vehicle to the terminal.
FEATURES:
Completely secured car park which offers both outdoor and indoor parking spaces
Toilets

So do not hesitate, leave your keys with the car park staff and travel with peace of mind! CAR PARK TRAVEL.

4.7
Were the car park staff accommodating and friendly?
?

4.9
Was the car park or drop-off location easy to reach?
?

4.5
Was the transfer service well-timed and generally pleasant?
?

4.3
Was your vehicle in the same condition as you had left it?
?

4.7
Was it straightforward dropping off your vehicle and retrieving it upon your return?
?
jeannenez
Sunday, May 13, 2018
Eric
Tuesday, May 1, 2018
Aimable et efficace
Read More
Olivier
Sunday, April 29, 2018
Anne
Thursday, April 26, 2018
Pas d état des lieux du véhicule entrée et réception, véhicule confié propre retrouvé avec déjections d'oisea, sensé être en parking couvert..
Read More
Anny
Saturday, March 31, 2018
Excellent service et ponctualité parfaite
Read More
Ben
Friday, March 30, 2018
Your Website still refers to Terminal 3 but this is now Terminal 1B. Also it would help to specify which parking is used for drop off and pickup (NOT the Minute Drop Off!).
Read More
LORRAINE
Tuesday, March 20, 2018
pascale
Monday, March 19, 2018
emmanuelle
Saturday, March 17, 2018
Je ne connaissais pas ce service , j'ai était plus que satisfaite et je réitérerai sans hésiter cette expérience , le personnel très sympathique .. je le conseil les yeux fermés...
Read More
Jerome
Sunday, March 11, 2018
Car Park Travel - Premium Valet