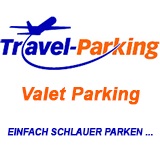 Valeting Available
Open Air
24 Hour
Languages spoken by car park staff

Just book your
Meet & Greet parking with Travel-Parking
and your car will be waiting for you
clean and polished
outside the terminal on your return!
Meet Greet parking is the easy, convenient and hassle-free way to park your car at Frankfurt Main airport: a driver will take over your car and upon your return, will deliver it again to the terminal.

How it works:
On the day of your departure please call the car park 30 minutes before your arrival at the airport and then drive directly to your departure terminal, where a member of staff will meet you and take over your car. Whilst you go to check-in, the driver will take your car to the car park in Flörsheim, a 10 minute drive from the airport.
Your car will be parked safely on the secure car park monitored by CCTV.

Upon your return and after you have collected your luggage , please call the car park. Your car will then be delivered to the airport terminal. You can start your journey home straightaway.

3.9
Were the car park staff accommodating and friendly?
?

3.5
Was the car park or drop-off location easy to reach?
?

4.0
Was the transfer service well-timed and generally pleasant?
?

4.4
Was your vehicle in the same condition as you had left it?
?

4.6
Was it straightforward dropping off your vehicle and retrieving it upon your return?
?
Gérald
Wednesday, May 9, 2018
Didier
Saturday, May 5, 2018
FIEUVET
Saturday, May 5, 2018
accueil limite du courtois lors de la remise du véhicule au chauffeur. au retour, après avoir contacté par téléphone le chauffeur, on m'annonce que nous étions attendus la veille... par très pro je ne prendrai plus ce service.
Read More
Rafael
Friday, May 4, 2018
thierry
Monday, April 30, 2018
HERVE
Sunday, April 29, 2018
Kimmel
Saturday, April 28, 2018
jean jacques
Monday, March 26, 2018
EMMANUEL
Saturday, March 10, 2018
Nous avons réglé deux fois l'acompte (17,1 €) : au moment de la réservation par internet et le jour de la récupération au voiturier qui nous a réclamé 114 € pour 15 jours dont l'acompte, nous nous en sommes aperçus une fois rentrée chez nous après vérification de la facture !
Read More
Lila
Sunday, February 18, 2018
Bonjour Personne ne parlant pas l'anglais pour nous expliquer le dépôt du véhicule à notre arrivée aussi non tout était parfait
Read More
Travel Parking MeetGreet Frankfurt Airport