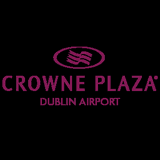 Free Transfers
CCTV
24 Hour
Barrier Entry
Shuttle bus
Undercover
Includes free shuttle bus transfers to and from the airport (please see details for transfer times). Located on the Old Airport Road, it is minutes away from the departures terminal.
"A very smooth and swift operation both travelling to and from the airport." Crowne Plaza Park and Fly off airport, sheltered parking in a multi storey carpark and a quality bus service to and from Dublin Airport, from 4am to 23:20pm. A full timetable will be attached to your confirmation. The hotel is located on 85 acres of parkland which has 24 hour security gates at all entrances into the grounds and the car park itself has a barrier entrance. Although all measures are taken to ensure maximum safety, cars are parked at the owners own risk. When you return to exit this car park, you must present your booking confirmation email and your parking ticket at reception and in return you will receive a validated ticket to exit the car park.
Please leave enough time to park, allowing for the transfer time to the terminal and to check in for your flight.
Height limit: 2.1 metres.

5.0
Were the car park staff accommodating and friendly?
?

5.0
Was the car park or drop-off location easy to reach?
?

5.0
Was the transfer service well-timed and generally pleasant?
?

5.0
Was your vehicle in the same condition as you had left it?
?

5.0
Was it straightforward dropping off your vehicle and retrieving it upon your return?
?
Gerard
Wednesday, March 28, 2018
I am a return customer and as usual everything was excellent, many thanks Gerard Stewart
Read More
Nicky
Monday, February 12, 2018
Siobhan
Monday, February 5, 2018
Mohammad
Thursday, February 1, 2018
Denis
Tuesday, January 30, 2018
Peter
Thursday, January 25, 2018
Bus to airport had not sufficient luggagevspace and luggageveas stacked in a dangerous manner
Read More
Ann
Tuesday, January 23, 2018
Great value and very easy to get to the airport. Will definitely park here again. Thanks
Read More
Leszek
Saturday, January 20, 2018
EGLE
Thursday, January 18, 2018
Seamus
Monday, January 15, 2018
Crowne Plaza Dublin Park and Fly