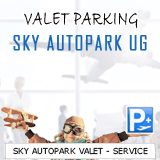 Secure
Flat Battery Jump Start
Deposit Safe
24 Hour
Well Lit
Meet and Greet
Meet and Greet
CCTV
Park your car safely and cheaply: choose the easiest and most comfortable option when it comes to parking at Cologne Airport. With this
Meet & Greet Service
your car will get picked up right outside Terminal 1 or Terminal 2 by one of the car park's experienced employees. After a
quick vehicle check
you will receive a
receipt with all your car's details
. Your car will get parked in the
nearby, private and secure premises of Sky Autopark
. On your return to Cologne Airport please call the hotline and your car will be brought to the airport where it will be handed back to you by a friendly car park employee.

4.0
Were the car park staff accommodating and friendly?
?

3.8
Was the car park or drop-off location easy to reach?
?

4.0
Was the transfer service well-timed and generally pleasant?
?

3.8
Was your vehicle in the same condition as you had left it?
?

3.8
Was it straightforward dropping off your vehicle and retrieving it upon your return?
?
Sebastian
Tuesday, May 8, 2018
Kurt
Thursday, April 19, 2018
Akgun
Friday, April 13, 2018
Olivier
Friday, March 9, 2018
Pas de précision à la réservation qu'il s'agit d'un service de voiturier... Avec l'adresse GPS fournie à la réservation plus d'une heure pour comprendre qu'il faut appeler une personne qui vient récupérer la voiture enfin à la récupération bosse et rayure sur la partie droite de mon véhicule j'attends encore un mail ou une prise en charge pour les réparations mais vu les amateurs à qui j'ai eu à faire je vais directement demander à mon assureur de faire les démarches les professionnels sont plus efficaces Je ne recommande pas cette prestation un parking classique est plus recommandé
Read More
AURORA
Monday, November 6, 2017
will do it again
Read More
Michael
Friday, November 3, 2017
Ha
Tuesday, October 31, 2017
Leonie
Monday, September 25, 2017
Wir hatten Valet parking gebucht. es ist leider niemand gekommen, um unser Auto in Empfang zu nehmen. In Frankfurt hat das super funktioniert! Hier sind wir leider in Zeitverzug beim selbstständigen Parken gekommen und hätten um ein Haar unseren Flieger verpasst!! Niemand per Telefon erreichbar!! Service total nutzlos!
Read More
Herbert
Thursday, September 14, 2017
Rückkehr nachts um 3 Uhr. Mitarbeiter hatte kleines Sprachproblem war aber ein lieber Kerl und sehr hilfsbereit
Read More
Peter
Sunday, September 10, 2017
Sky Autopark Cologne Airport