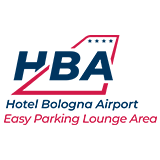 Free Transfers
Insured Car Park
Open Air
Shuttle bus
CCTV
24 Hour
Barrier Entry
Secure
No Pre-Payment
Valeting Available
Tarmaced
Undercover
Languages spoken by car park staff

Open 24/7/365 Hotel Bologna Airport is located only 2.5km away from the airport and offers free shuttle bus service to/from the airport.
The hotel offers open air and undercover solutions and many services more: Wi-fi, comfort area, toilets and give you the possibility of printing your booking voucher. Please note:: You might be required to leave your car park keys at the car park for a better organization of the service.
ANDREA
Monday, October 24, 2016
Un parcheggio simile a Roma costa la stessa cifra, ma almeno il piazzale è asfaltato. Inoltre al ritorno dal viaggio abbiamo aspettato circa 30 minuti prima che qualcuno ci venisse a prendere. Potete migliorare. Saluti
Read More
sandro
Thursday, October 20, 2016
Ottimi in tutto! Un sorriso in più dagli autisti delle navette non guasterebbe....per il resto è da consigliare 
Read More
Marie-José
Thursday, January 14, 2016
Servizio ineccepibile per puntualità e cortesia! Questa era la quarta volta!consecutiva! e non sara' l'ultima!
Read More
Leonardo
Tuesday, December 1, 2015
davide
Sunday, November 22, 2015
davide
Sunday, November 22, 2015
ANTONIO
Friday, November 13, 2015
Assolutamente soddisfatto del servizio!
Read More
Mirko
Wednesday, November 11, 2015
È la seconda volta che utilizzo questo parcheggio. Servizio sempre puntuale e preciso.
Read More
GiorgioEL306WN
Monday, November 9, 2015
Ottimo servizio
Read More
Carlo
Sunday, November 8, 2015
E' stata una scoperta interessante. Io volevo prenotare il parcheggio dell'aeroporto ma internet mi ha portato da voi
Read More
Hotel Bologna Airport Lounge Area easy parking